Great eye care comes with great eyewear at Professional Eyecare Associates.
A majority of our lenses are made on site. In fact, using our state-of-the-art manufacturing equipment and expert opticians, you can have superior quality lenses delivered faster. Our lens producing capabilities mean more convenience for you. Not only can we make new glasses, we can quickly update the prescription in your existing glasses, add tint and UV protection or make prescription sunglasses of your choice.
At the Professional Eyecare Associates optical shops, service and quality are very important to us. That is why we back our eyeglass frames and lenses with unparalleled guarantees.
Two-Year "Bumper- to Bumper" Eyeglass Warranty*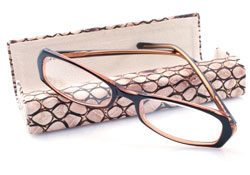 Professional Eyecare Associates offers a two-year frame and lens warranty. If anything happens to your glasses within two years of purchase, bring them into our office and we will fix or replace them at no cost to you.
*This covers manufacturer defects only, insurance plans not included. Contact your insurance provider for warranty details.

Prescription Accuracy Guarantee
Our experts diligently test your eyewear to verify that they are exactly as ordered and will specify that they meet or exceed all American Nation Standard Institute (ANSI) guidelines for prescription accuracy and material integrity. The frame and lens experts of Professional Eyecare Associates guarantee that the glasses you receive will be what you were prescribed.
Monthly Payment Options
We offer monthly payment options with 6 months of no interest. Come into any of our offices to apply for our financing options or get pre-approved online.
Frame your eyes in style at Professional Eyecare Associates. You'll like what you see. We offer a wide selection of eyewear to fit your needs and tastes. Whether you are looking to accessorize your eyes in the latest looks or are seeking glasses that offer affordable comfort, you'll find what you need. We offer one of the best selections of exclusive designer frames and sunglasses.
Check out the many brands that we carry in our Designer Optical Boutiques!